Mutton Biryani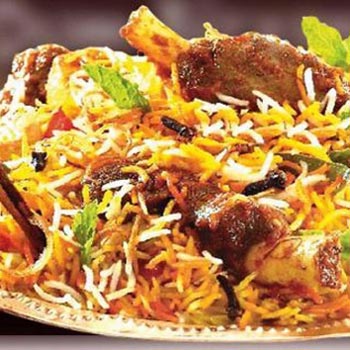 Ingredient For Mutton Biryani
To Mutton : Mutton 1/2kg, Onion 3,Ginger-garlic paste 3 ,Cumin seeds 1 tbsp, Cardamom green 2,Cloves 3-4,Ghee 2 tbsp, Cumin seeds 1 tbsp, Cinnamon stick 1 inch piece.
To Temper : Onion 2, Food color small pinch, Cardamom green 3,Cinnamon stick ½ inch piece, Cardamom brown 2,Cloves 1,Milk 2 teaspoon, Almonds 5-6
Method :
Heat the oil in pressure cooker and add cinnamon stick, bay leaf and onion. Fry it until onions are golden brown in color and add mutton pieces. Cook mutton for about 5 minutes on high heat.
Then add ginger-garlic paste and cook it on slow heat for about 5 more minutes or till oil shows separately. Grind cumin seeds, cardamom brown, cardamom green, cloves, black pepper, nutmeg, mace along with some water to make a fine paste. Then add red chilli powder and coriander powder in it
Add this ground paste and salt to pressure cooker along with 1 glass of water. Close the cooker and cook on high heat till 1 whistle and then keep the flame low and cook for about 10-12 minutes or until mutton cooked properly
Boil 1 & 1/2 ltr water along with all the ingredients under the table     " Ingredients for rice". Then add soaked rice into the water.
Cook the rice till ¾ done and then drain in the colander .In the same pan grease with some oil.
Then put half quantity of semi-cooked rice and place cooked mutton, Khushbu Masala and fried onion on rice as shown below n the picture.
Put remaining semi-cooked rice on the top of mutton as a second layer. Dissolve food color in 2 teaspoons of milk and sprinkle over rice. Sprinkle some more fried onion, Khushbu Masala and almonds. 
Cook covered on high heat for about 1 minutes then keep the flame low and cook for about 15 more minutes till the rice cooked properly. Mutton biryani is ready, serve hot with raita.
Enjoy!!